Careers in Sports Psychology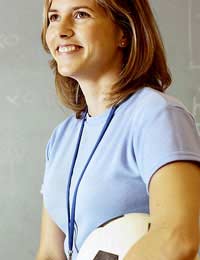 Sports and Exercise Psychologists work on helping individuals or sports teams to improve their performance. Alternatively the work may involve encouraging public participation in sport and exercise. In the main, careers in this broad field tend to specialise in either sport or exercise psychology.
Sport psychology is focussed on improving performance or helping people cope with the stress of participating in major sporting events. Thus the work could involve helping football referees to cope with their roles, assisting in building team spirit or perhaps helping individual athletes (in the broadest sense) to cope with the stress and loneliness of recovering from injury.
On the other hand Exercise Psychologists work with the general public seeking to increase participation in, and the benefits of, exercise. In both cases, the work is likely to be multi-disciplinary and to involve co-operation with others with an interest in exercise or sports coaching.
Both careers involve working in a wide variety of settings. Most people will work both as a freelance consultant and in an academic or research setting. Some Sports and Exercise Psychologists are employed full time by national sports bodies. Exercise psychologists may also find themselves working to devise exercise programmes to help with rehabilitation, in connection with other psychological work or in settings such as prisons.
Training To Work As An Sports Psychologist
The basic pattern of psychology training to prepare for a career in Sports and Exercise Psychology is initially similar to other careers in psychology.
At its most basic you will need to have an undergraduate degree from a psychology course approved by the British Psychological Society (BPS). This will lead to what is technically called the Graduate Basis for Registration (GBR). Following this you will need to complete an approved postgraduate degree (and relevant training) leading to the status of Chartered Psychologist.
As for other psychology programmes, competition is very intense for places on undergraduate and postgraduate programmes so it is important to be able to display interest so as to ensure selection.
At the undergraduate level most psychology degrees follow a broadly similar curriculum. However, since you will need to show a keen interest in the field when you apply for a postgraduate programme you may wish to chose a University that also allows you to do some study in other aspects of Sports Science.
Relevant postgraduate degrees are currently offered in only 8 UK universities. The programmes all lead to the award of a MSc in Sports and Exercise Psychology and take one year full time (or two years part time study). There is considerable competition for places and all the courses will expect to display prior experience in areas such as coaching or fitness instruction.
Once you have completed the MSc, you will need to take the BPS' "Qualification in Sports and Exercise Psychology". This is not a formal course but a qualification where you will display key competences and you will need to structure your own training programme. This will tend to take between two and four years and will cost between £500 and £550 per year (and in addition you will need to pay for each individual assessment). More information is available on the BPS website.
If you lack an approved undergraduate degree in psychology you may still meet the first requirement to working as an Counselling Psychologist (i.e the GBR referred to above). You will need to complete either an approved conversion course or study for the BPS' own qualifying examination.
If you have studied outside the UK, you will not only need to ensure that your underlying qualifications are seen as meeting the BPS' requirements.
Summary
Careers in sports psychology are varied. The work will usually be a mixture of consultancy work (with individual athletes, national sports bodies, GPs, teams) and will involve improving individual performance or encouraging the take up of exercise amongst the wider population.
The training model is similar to other psychology professions. Essentially a sequence of an approved psychology undergraduate degree, suitable work experience, then an approved post graduate degree, followed by a period of gaining core competences and skills. Starting salaries may be low, and will vary considerably depending on your working environment. Many Sports and Exercise Psychologists work in Universities or Colleges and can expect salaries of £20,000 - £25,000.
You might also like...