Careers in Marriage Guidance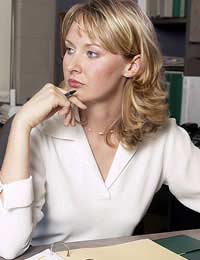 There are a number of options available for people looking to have a career in marriage guidance, with NHS, private sector and organisation-based positions all possible. Working as a marriage guidance counsellor is a fulfilling, demanding and relatively flexible role, although it is certainly a career that requires commitment and a large degree of vocation.
Entry Requirements
It is possible to become a marriage guidance counsellor without a degree in psychology, although a degree is necessary. Essentially, as long as a relevant counselling access course or 'pre-entry psychology qualification' is completed, any degree is acceptable, although it can be easier to follow the course and career path if your degree is in a related subject, such as education, theology or social studies. It is also important to point out that a full Criminal Records Bureau (CRB) check is required for anyone wishing to practice as a marriage guidance counsellor, either in a private practice, in their own practice or within the NHS.
Salary Potential
For marriage guidance counsellors working within the NHS, the starting salary is around £18k pa, rising to around £27k pa after four years. There are also plenty of training opportunities within the NHS to add further specialism to existing training, as well as great job security and excellent benefits.
For private practice careers, the salary tend to be higher, starting at around £25k pa and rising to £45k pa, particularly if there is some responsibility for finding and retaining clients.
For careers in marriage guidance that are for not-for-profit or subsidised organisations, the salaries are similar to the NHS rates, with possibly fewer opportunities for further training but a greater potential for flexibility within the role.
By far the most lucrative way to earn a living as marriage guidance counsellor is to start a new practice, either as a self-employed person or with a view to employing others. There is an unlimited salary potential and, if all opportunities for development and media PR are grasped, this can be substantial.
Skills Required
In order to succeed as a marriage guidance counsellor, it is important to appreciate the skills required to ensure suitability for this potentially very influential career. A marriage guidance counsellor's role is to see couples either together or individually and encourage them to talk through their issues in a confidential environment. A marriage guidance counsellor does not really give advice, but promotes the 'patient' to think differently, to see situations from new angles and to challenge potentially negative behaviour. As such, the counsellor and the 'patient' enter into an agreed counselling contract whereby a framework of development or goals is created.
The counsellor needs to be able to work towards the goals set while keeping a relaxed, supportive approach and must be effective in keeping accurate records to help this process.
Although there is not really a clearly-defined career path for marriage guidance counsellors outside the NHS, many trained counsellors go on to work on their own as a self-employed counsellor, giving them greater flexibility over their work/life balance, particularly with around 75% of the UK's marriage guidance counsellors being female.
It is necessary to note that all counsellors are required to be accredited to the BACO, the British Association of Counsellors and Psychologists in order to practice in the UK.
You might also like...
Mama - Your Question:
Hey, so. I have a 2.1 degree in educational studies and English (UK). I want to transfer accross to do this. I have been married 7 years myself and had all my babies whilst at uni! Any advice on where to go from here?
---
Our Response:
There is a range of counselling courses that you can undertake to obtain the relevant qualifications. You can then choose whether to seek employment with a counselling organisation or set up on your own as a private business.
CareersInPsychology
- 22-Nov-16 @ 1:00 PM
Hey, so... i have a 2.1 degree in educational studies and English (UK). I want to transfer accross to do this... i have been married 7 years myself and had all my babies whilst at uni! Any advice on where to go from here?
Mama
- 21-Nov-16 @ 10:18 PM
Adiitu - Your Question:
I am very grateful to have found this platform. I have always been curious to go professional in marriage counseling not mainly to earn big but determined to help restore some broken homes and guide the youth the right path to ply though haven't got any degree in any related course. But it's has been one of my God given strength. Academically, I have O'level and certified as Database Administrator with NIIT. I am 31yr old, single, Nigerian and christian. Please I will like appreciate your guidance on how to achieve this
---
Our Response:
You could contact counselling organisations where you live and ask what if they have any opportunities available. Undertaking a counselling course at college/university is also important if you wish to do this professionally. We hope the information in this article helps.
CareersInPsychology
- 22-Sep-15 @ 10:31 AM
I am very grateful to have found this platform. I have always been curious to go professional in marriage counseling not mainly to earn big but determined to help restore some broken homes and guide the youth the right path to ply though haven't got any degree in any related course. But it's has been one of my God given strength. Academically, I have O'level and certified as Database Administrator with NIIT. I am 31yr old, single, Nigerian and christian. Please I will like appreciate your guidance on how to achieve this
Adiitu
- 19-Sep-15 @ 4:50 AM
Hi im interested in becoming a relationship councellor and would like to know the correct route to take?? Any advice? Thanks
Tasha
- 8-Oct-13 @ 5:18 PM
Hi, If I have just an ordinary non honours degree in psychology how do I go about becoming a marriage counsellor? Many thanks
toonarmy
- 28-Sep-13 @ 4:58 PM