Careers in Counselling Psychology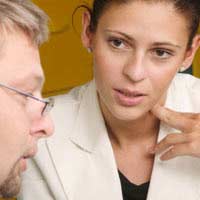 Counselling Psychologists tend to work in a wide range of settings including the NHS, private companies, the prison service or in private practice. The work involves helping people (both adults and children) with a range of mental health problems. These can involve bereavement, relationship difficulties, anxiety and other mental health difficulties.
The discipline is relatively new and requires both a knowledge of psychology with an understanding of therapeutic practice. When working with clients there is a strong emphasis on empathy and understanding the interpersonal dynamics of therapy.
The work involves assessment and testing (sometimes using psychometric approaches) of patients, developing and implementing a therapeutic approach and evaluation of its success. Alternatively Counselling Psychologists may train other mental health professionals and work in multi-disciplinary teams. The role may also involve policy development, evaluation of approaches or introducing new services.
Training To Work As An Counselling Psychologist
The basic pattern of psychology training to prepare for a career in Counselling Psychology is initially similar to other careers in psychology. At its most basic you will need to have an undergraduate degree from a psychology course approved by the British Psychological Society (BPS). This will lead to what is technically called the Graduate Basis for Registration (GBR). Following this you will need to complete an approved postgraduate degree (and relevant training) leading to the status of Chartered Psychologist.
As for other psychology programmes, competition is very intense for places on undergraduate and postgraduate programmes so it is important to be able to display interest so as to ensure selection.
In addition, many postgraduate courses will expect you to have completed a basic counselling skills course. Further information on this is available from the British Association for Counselling and Psychotherapy, who can be contacted at: http://www.bacp.co.uk/.
At the undergraduate level most psychology degrees follow a broadly similar curriculum.
Relevant postgraduate degrees are currently offered in only 11 UK universities or approved training institutions. The structure and title of the degree varies between university. Some offer a three year full time degree whilst others allow you to substitute two years of part time study for one of the full time years. All the programmes lead to a doctorate in counselling psychology and this contains a mixture of research, professional practice and further academic study.
An alternative route if you wish to train for a career as a counselling psychologist is to study the BPS' own "Qualification in Counselling Psychology". This is only really appropriate if you feel you can manage your own pattern of work and further study. The assessment will be based on both your development of counselling practice and knowledge of the academic underpinnings to the subject.
The BPS allows you to take between three and six years to complete your studies. Detailed information can be accessed at: http://www.bps.org.uk/careers/society_qual/counselling.cfm./
If you lack an approved undergraduate degree in psychology you may still meet the first requirement to working as an Counselling Psychologist (i.e the GBR referred to above). You will need to complete either an approved conversion course or study for the BPS' own qualifying examination.
If you have studied outside the UK, you will not only need to ensure that your underlying qualifications are seen as meeting the BPS' requirements.
Summary
The training for Counselling Psychology puts considerable stress on developing a suitable approach to therapeutic practice when working with patients. You will be expected to justify how you work with clients in terms of the emerging research in this field. The work is potentially very varied and you will work in a much wider range of settings than say Clinical Psychologists.
The training model is similar to other psychology professions. Essentially a sequence of an approved psychology undergraduate degree, suitable work experience and an approved post graduate degree. At the end of this training process, your likely starting salary will be around £25,000.
You might also like...