Careers in Sexual Psychology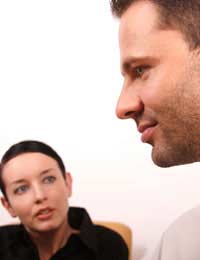 A career as a sexual psychologist tends to happen many years into a career as a psychologist. As there are very few sexual psychology roles within the NHS, the majority of people in this profession have either started their own private practice, work within an established private practice or are employed by a recognised charity or organisation, such as Relate.
The role of a sexual psychologist varies depending on whether they are counselling an individual or a couple, although the ultimate focus remains the same – to help people to deal with/retrain/re-educate themselves regarding their sexual behaviour. This can mean counselling people who have had a negative sexual experience, people who are unable to enjoy their sexual relationships or people that have a problematic sexual issue, such as a sex addiction that is threatening their marriage or happiness.
Required Characteristics
With the very nature of the role of sexual psychologist, in whatever guise, being so very personal, it is imperative that a sexual psychologist or counsellor is discreet, understanding and totally non-judgemental. As such, the personality of a counsellor in this field is almost as important as the qualifications.
Required Qualifications
The qualifications required to train as a sexual psychologist are often down to live experience in addition to formal qualifications. Many sexual psychologists with their own private practices started their careers as counsellors or psychologists in other fields, with the necessary interest in moving into this specific area. This means that they will usually have a degree (not necessarily in psychology as social sciences, education, medical and humanities degrees are also accepted) a post-graduate psychology course or diploma in addition.
It is also possible that sexual psychologists have retrained in this field following an unrelated previous career but a long-held interest in the topic, which can go a long way in helping to obtain a place on university psychology degree course. This is perhaps why psychology degrees and access courses are very popular with mature students. There are also a greater number of female sexual psychologists at around 75%.
Salary Potential
It is very hard to gage the salary potential of a sexual psychology as the majority are self-employed, with unlimited earning potential depending on hours worked, profile and so on. For those working with organisations such as Relate, there is a steadier career path with a more stable income, with full-time salaries of around £30k pa the average. It is a popular career for part-time work, too.
Many sexual psychologists choose to specialise in a certain area of sexual counselling, such as couples, trauma or confidence, and then work hard to 'promote' themselves as experts in this field.
There is also the lucrative possibility of gaining television or media work in the chosen field and, as such, many sexual psychologists, counsellors or therapists juggle their casework commitments with better-paid media opportunities, usually through getting an agent. Many professionals also undertake additional research or write self-help books that highlight their particular specialism, which also raises their profile and income considerably.
You might also like...
This site was really helpful, thank you so much!