Careers in Organisational Psychology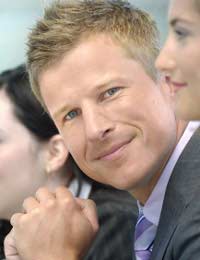 Organisational Psychology does not have a formal training programme. Instead, as with child psychology, it is more about the focus of your work (in this case, organisations and the world of work). As such psychologists from a number of backgrounds will have an interest in this field - including occupational, counselling and academic pyschologists. Essentially organisational psychology is the study of people in organisations and at work, as such it can encompass a variety of perspectives and approaches.
It is an area of work where a variety of research areas and sub-disciplines come together. Some courses focus on issues such as employee selection, staff appraisal, organisational development and environmental/ergonomic design. Others may look at organisations in terms of group dynamics, decision making and the relationship between strategic planning and organisational change.
In career terms, organisational psychology is a very open field. You might work in a University (and if so it could as likely be within a Management School as a Psychology Department), in a large organisation or as a freelance consultant.
Training To Work As An Organisational Psychologist
The basic pattern of psychology training to prepare for a career in Organisational Psychology is initially similar to other careers in psychology. At its most basic you will need to have an undergraduate degree from a psychology course approved by the British Psychological Society (BPS). This will lead to what is technically called the Graduate Basis for Registration (GBR).
If you wish to complete your training as an Occupational Psychologist you will then need to take an approved (by the BPS) MSc and undertake 2-4 years of supervised work experience.
However, due to the multi-disciplinary nature of the field it is possible to study organisational psychology at post graduate level even if you do not have a BA/BSc in psychology. In this case, you will tend to find your degree is titled MSc in Organisational Behaviour (as opposed to Organisational Psychology).
At the end of this route you will not be entitled to call yourself a Chartered Psychologist (that title is regulated by the BPS) but you could work in a university, the public sector or industry. This is a viable route if you have a general social science or management degree (preferably with some psychology) and do not wish, or need, to acquire the status of a chartered psychologist. Given the nature of the work, and the multidisciplinary environment this is a valid way to enter a career in organisational psychology.
Summary
Organisational psychology is more a description of the focus to your work than a formal training route in itself. As such, there are two main approaches to beginning a career in the field. One is to train with the goal of becoming a Chartered Psychologist and in that case you would probably opt to study as a Occupational Psychologist.
The other is to study at organisational behaviour at the postgraduate level and use your degree as a good basis for various careers. This approach is facilitated by the range of topics that fall under the label of organisational psychology. In some the focus is on aspects related to human resources (recruitment, appraisal, training, and organisational development) but it is also possible to study leadership, group dynamics, decision making and human-computer interaction.
You might also like...
Organisational psychology is doing well in its field and making the student focused in there work and one thing that i like is there training program which makes the base of students.
360 degree feedback
- 26-Jul-11 @ 7:54 AM