Psychology on Television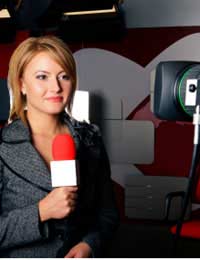 As people become more and more interested in trying to understand other peoples' behaviour, or at least nosier, there has been a huge increase in the amount of psychological analysis on television.
While it is not always, and indeed sometimes rarely, a particularly 'professional' approach to psychology, it is none the less a very clear development in the way that psychology is perceived in every day life.
Working in psychology on television is just as hard to break in to as any other sort of career in television, with the old adage 'It's not what you know but who you know' just as relevant. That said, working in psychology on television is a potential career choice for trained psychologists, but the career path and how you get on it is a real challenge. Being seen as an expert in your field is a great way to ensure you are seen by the producers and researchers that decide who is chosen to appear on television programmes, and being a 'visible expert' is important too. Do this by having a good media profile by commenting on relevant Twitter discussions, getting an agent and having an active website that's professional and informative.
Types of Psychology on Television
Reality TelevisionAlthough some people may turn their noses up at reality television, it has certainly encouraged the trend for more psychological discussions, making there far more jobs on television for psychologists. This is also support by the huge increase in television channels, and the trend for reality show analysis on digital channels. You will note that it is often the same faces that pop up as the psychologists on these programmes, which highlights why the 'who you know' adage is true – once you have 'got your foot in the door' (as long as you do a good job) you will be asked back again. After all, this saves the researchers and bookers a task.
News Analysis
A more serious member of the 'psychology on television' family. News discussion is especially popular now that we have 24-hour rolling news. Again, a good media profile that you manage effectively and, ideally although not necessarily, an agent will help you get work. Agents are easy to find on the internet, and they do not charge upfront fees but rather a percentage of any bookings. Try searching for the name of a person you've seen commenting on television with the word 'agent' and you will find a good place to start.
Sport Psychologists on Television
Again, with so many hours of news to fill and a passion for sport, it's no wonder that sports programmes and sports sections on news channels are keen to have comment from sports psychologists. Whether that is to understand where a team went wrong, to gain an insight into the minds of our leading sports people or to predict a team's performance at an upcoming competition, television channels love to hear the views of an expert.
'On The Couch' Programmes
Another area of psychology on television that is growing in popularity is the type of 'on the couch' programmes where a psychologist (or journalist) interviews either celebrities or 'normal people' to understand a chapter in their lives. This makes for interesting viewing and can be done either in a sensationalist manner or with a more professional approach. These programmes tend to be done as a series and are very difficult to gain, although their increasing popularity means that there are more opportunities on digital channels.
You might also like...