What is Experimental Design and Statistics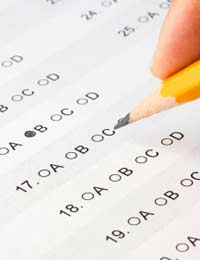 Experimental Design is a core topic in all psychology degrees. Essentially this is not because psychologists think it is good fun to make students learn the basics of statistical testing but because psychology is developed through the interpretation of scientific enquiries (this is the reason why GCSE or Scottish Standard Grade Mathematics are part of the entry requirements).
Fundamentally this approach allows psychology as a discipline to move beyond assertion and to test if an assumed relationship really is true.
How To Design A Test
One issue raised elsewhere on this website is the extent to which someone who is depressed is likely to see a successful event (say passing an exam) as being down to external causes ("it was an easy paper") whilst most people would tend to see this as being down to their own hard work or brilliance.
It is possible to design an experiment that will test this. First we would need to give a questionnaire to two groups of people (one who describe themselves as depressed). Once we have the answers we can then use one of a range of statistical tests to see if there is a real difference between the two groups.
We can then use the results to continue to investigate other issues in the psychology of depression – for example is the way of seeing the world a consequence of depression or a cause of depression?
Experiments In Clinical Practice
The use and interpretation of tests is not just something done as part of a degree or by academic psychologists. Almost all types of psychologists use a range of diagnostic tests to help understand their patients and some tests are used before a particular formal diagnosis can be given. So someone cannot be said to be suffering from Post-Traumatic Stress Disorder unless they have taken some particular diagnostic tests (this is particularly important if you have to give information in court).
Equally psychologists continue to test out new therapeutic approaches and this has to be done in a controlled manner.
Problems In Experimental Design
Although very common in psychology, and at the core of much of the discipline, there are some problems with relying on conventional experimental design.
First, ever since some experiments in work organisation in the early years of the twentieth century, we have known that by observing we also alter behaviour. The early research ended up proving no more than if you appear to take an interest in someone's work, they then work harder.
The second is inherent to the nature of much experimental design. In the main it relies on two or more groups of people given the same exercise to conduct. Since most psychological research takes place in Universities the most common groups of subjects are students.
Some critics, in particular of social psychology, argue that all we know from 30 years of research is how groups of students behave when carrying out a set task (probably too harsh a judgement but one reason why some social psychologists ended up adopting new approaches).
In consequence some areas of psychology have concentrated on how people behave and think in real world situations (especially at work). Whilst this may mean we are now studying something real there are still significant problems in how to interpret the findings.
Scientific Reasoning
The ability to design and interpret experimental tests is a core part of being a psychologist. The discipline sees itself as having more in common with the natural sciences in this regard than other social sciences such as sociology or economics (a claim not accepted by all psychologists, never mind by other social scientists).
In consequence being able to think about a problem, design a way to test the assumption and to interpret the results are skills that you need throughout your career.
You might also like...