What Does an Organisational Psychologist Do?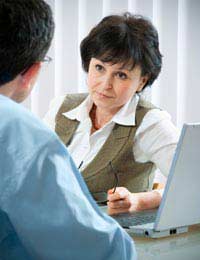 An organisational psychologist could essentially also be called a workplace psychologist, as their role is to ensure that the employees and managers of a company are working in harmony, to the best commercial advantage of the operation.
What Does an Organisational Psychologist Do?
As such, it is important to remember that the organisational psychologist is usually working on behalf of the employers, either on their payroll or as a consultant required to sort out a particular issue or simply to increase productivity. So whilst the organisational consultant will certainly want to do what is most likely to help the employees to succeed, it will always been from the perspective of the employer.
You are unlikely to find a role as an occupational psychologist outside of the most major blue chip companies. Unless you are planning to establish your own consultancy and have a number of smaller clients, most occupational psychologists are employed by the blue chip client alongside the additional services of health and well-being, often located in the medical section of the business, or perhaps alongside HR depending on how the organisation is structured.
An organisational psychologist is a trained psychologist that is able to help employees reach their potential – clearly this is a very wide brief and as such the role is highly varied. It may be that some staff in fee-based roles need support with closing deals or overcome particular commercial issues, or perhaps some marketing staff require further assistance with anxiety over making presentations. There can also be issues to deal with over personality clashes in certain departments, or dealing with an employee's personal emotional issues that are affecting their work.
An organisational psychologist will usually be a fully trained psychologist that has chosen to specialise in commercial practice, as such, they will need to have at least some experience of the 'commercial workplace' rather than simply having gained experience from theoretical sources, particularly as the inherent aim of the role is to make sure the company is as successful as possible.
A Popular Retraining Choice
Many organisational psychologists have chosen to specialise in this field after many years experience in other areas – it is a popular choice for those that have retrained as a psychologist after working for blue chip companies in other areas such as marketing and business development as they are able to bring their real-life experience of the cut-and-thrust of big business to their role.
Because of the commercial nature of the role and the fact that a good organisational psychologist can increase the profits of a company considerably, particularly in areas in which it may have been failing, this can be a very lucrative career. Those that make the most money tend to out-source their skills on a long-term project basis, although full-time posts can start at a rate of around £35,000 and go up to £100,000, with contracts worth considerably more. It is worth remembering that the purpose of the role of an organisational psychologist is to help departments and/or companies raise their game, so a strong pitch and negotiation process is essentially a 'calling card' for your capabilities and commercial potential.
You might also like...