I Set up a Psychology Rereat: A Case Study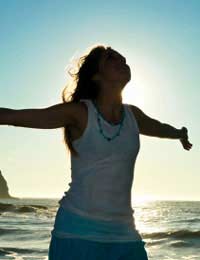 After Caitlin Shah, 55, was made redundant from her job in a private school, the last thing she was able to think about was what to do next. With some redundancy money and an open mind, she slowly came up with a rather exciting idea. She told us her story.
"Being made redundant at 51 was a total shock because the school I worked at merged with another local girls' school, so we were all aware that certain teaching positions would be duplicated and some of us would be made redundant. As a sociology teacher I was not employed full time in that role and I often covered other lessons if teachers were off sick, so when we merged there was no point in keeping two people in the same role."
Time to Think
"I was given a relatively generous redundancy package and I was in the lucky position of being able to use it in any way I wanted because my husband's salary pays for all our household expenses. This meant that I was able to take some time to think about what I wanted to do with myself for the how ever many years. I didn't feel comfortable going back into teaching because I had found the last couple of years in my job increasingly frustration, what with the staff room politics and the tension surrounding the merger, so I was keen to do something completely different."
Caitlin had long been interested in adult psychology, particularly from a self development perspective, so she looked into potential careers in this arena.
"I thought about training to teach psychology as a GCSE subject, but I quickly realised that I wanted to be out of the school environment, so I started researching psychological ideas for personal development, such as Neuro-Linguistic programming. Around this time, my husband was offered early retirement and our daughter and her family decided to move from London down to live nearer to us in Cornwall."
Work – Life Balance
These life-changing situations helped Caitlin see that there was a way of combining her interests and skills with a better life – work balance.
"My daughter wanted to work part time and, as an experienced marketing manager, I was well aware of how valuable her skills would be to a new business. Working alongside a rural women's group in Cornwall, I decided to establish a once a month club for self development for women of all ages. My daughter helped us to gain publicity and some funding in exchange for me looking after my grandchildren three days a week while she worked at a local PR company."
This continued to work well, although Caitlin was keen to expand her small business and provide more of a country retreat for women that were going through a difficult time in their lives or were looking for a new direction. "After about a year, we decided to offer four day residential courses for women wanting to understand themselves better, which included working with a nutritionalist and a fitness trainer as well as one-to-one psychology sessions with me. I was so proud to see women walking tall again after four days of self development at our retreat."
You might also like...