My Role as a University Counsellor: A Case Study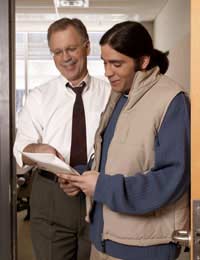 Working as a counsellor at a university has given Jeremy Parkinson, 43, from Birmingham, a challenging way to utilise his training as a psychologist.
Following a degree in psychology and further study to specialise in working with young adults, Jeremy started his professional career as a cognitive behavioural therapist with the NHS. He explained how his early career lead him towards the role he now holds.
Keen to Help Young People
Jeremy said, "In my NHS job I found that I was working with many young people that felt particularly discombobulated about what their future held. All too often they were well educated people from supportive families who felt unclear about where to turn and who they were. I found this both sad and interesting, so started to think about how this could be incorporated into my career."
Jeremy was offered voluntary redundancy a while later as his department lost core funding, so he decided to seriously consider a new opportunity.
He continued, "I initially wanted to stay with the NHS as I had built up some good pension contributions and I was very happy with how the counselling system worked within the organisation. Also, having worked in the NHS practically since graduation, I was beginning to feel as though I could really make a difference to the counselling provision at my local facilities."
Interesting Opportunity
So although Jeremy did not find the decision easy to move away from the NHS, finding an interesting job advertisement in the Times Educational Supplement caught his eye.
He said, "My nearest major university was advertising for qualified psychologists for its on-site counselling service. The salary was excellent, and the hours and holidays were better than the NHS! But over and above that, the role sounded absolutely fascinating. I applied straight away and was called for an interview. There, they explained that the university counselling service was keen to up its game as it recognised that some its students were graduating without a clear picture of who they were and what they wanted to do with their lives."
Jeremy continued, "This was music to my ears. I could see a terrific role that would have clear targets and a quantifiable value to young people. I was pleased to be offered the job after the second interview, and I started the following term."
Jeremy now works full-time on the university campus as a counsellor, and has introduced a range of fresh ideas that are already seeing results. He added, "I'm particularly proud of introducing an open-door policy, as in the first few weeks in the job it was clear that the psychological needs of young people is changing all the time. I couldn't simply take appointments and expect them to turn up on time, and nor could I offer the support they needed on that basis. My walk-in office is clearly marked when it's occupied, but I also make people leave me their mobile number and I text them as soon as I'm free. It's hectic, but so rewarding, especially when I get to see that lightbulb moment!"
You might also like...