Counsellor Inspired Me to Become a Psychologist: Case Study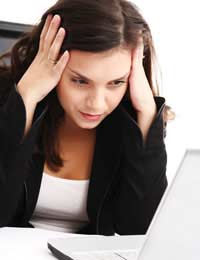 When Lydia Goldman, 29, from west London, started having counselling to help her anxiety and confidence issues, she gained more than she bargained for. Having always had a problem with self-belief, when it got to the point that it was affecting her career, Lydia knew she needed to do something about it.
Lydia explained, "After I graduated from my degree in Business Studies, I went into a business development role for a firm of commercial property specialists. My role was to build relationships with architects, property developers and other property professionals in the London commercial property scene. Although I initially flourished in my job, wining some really prestigious deals for my company, after about two years I started to feel bogged down by feelings of self-doubt. I felt like a real fraud in my job and that any successes had just been a fluke, rather than anything to do with my skills and experience."
Although Lydia carried on in the same vein for another year, she was conscious that she was no longer performing as well, with fewer contracts won and fewer contacts made.
Time for a Change
She continued, "I had a major review coming up and I knew that I couldn't really get away with it any more. I admitted to my boss that I felt overwhelmed by the job and that I felt uncomfortable trying to win deals. Naively, I thought they might support me and offer some sort of training, but they actually gave me a warning. It was a real wake up call as I realised my career was in jeopardy, but also in that I knew I wasn't cut out to be part of this cut-throat industry that was not at all supportive."
When she returned to her flat after the review, a conversation with her flatmate made Lydia decide to seek some advice.
She told us, "My flatmate told me that counselling wasn't just for really major traumas, it's there to help you change certain behaviour patterns. I decided to see if a counsellor could help me regain my confidence so I could win my job back and I made an appointment the next day with a counsellor that specialised in confidence issues."
Although during the first session Lydia was unconvinced it would help her, as the counsellor was less about 'giving her the answers' and more about making Lydia find out the answers for herself, after a few weeks she felt more in control.
Finding the Real You
Lydia continued, "Counselling wasn't what I expected at all. I thought I'd talk about my childhood and the counsellor would tell me what to do differently. But really it was about identifying why I act in certain ways and who is the 'authentic' me. I was so enthralled by the whole process and how it was more about who we really are as people and how we can get the best out of ourselves, rather than the money-focused attitude of my business development job. I decided that I didn't actually want to try and get my job back anyway, but that I'd like to help people gain the insight into themselves that I'd had."
"I spoke to the counsellor about her training and she gave me some great advice and pointers as to where to start. I'm now in my third year of training and expect to gain work experience in the field of counselling in the next few months. I feel so much more myself in this world and although there isn't really the financial potential I had in my previous career, unless perhaps I start my own practice, I am far more comfortable that this is sustainable."
You might also like...