I Retrained as a Psychologist: A Case Study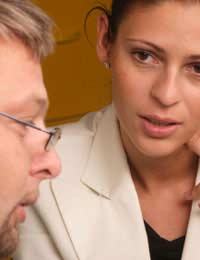 As psychotherapy becomes more popular and mainstream in the UK, opportunities for establishing private practices or working within the NHS have increased. The vast majority of psychologists specialise in a particular area, such as child psychology, eating disorders or couples therapy. For Nigel Morris, 55, the area of phobias had always been of interest, although his career took a very different direction for many years.
Fascinated By Phobias
Nigel explained, "I have always been fascinated by phobias because I remember watching my mother wash her hands over and over again and be terrified of not having her cupboard perfectly organised. Of course, I can recognise now that she was probably suffering from obsessive compulsive disorder, or OCD, but at that time there was no label for it."
As a young man, Nigel was not aware of the possibility of psychology as a career and worked as a journalist after going to university.
He continued, "Over the years, I began to write more and more stories about psychological issues, including self-analysis about how growing up with my mother's phobias affected my childhood, and I gained a good portfolio in this area. This was especially true as the acceptability for therapy and self-analysis grew from about the early 1990s onwards."
Potential Career Move
After working as a journalist and writer for many years, Nigel felt ready for a change of direction and, having written about psychological issues, particularly those surrounding phobias, for some time, decided to look into it as a potential career move.
Nigel explained, "I spoke to an excellent careers advisor and life coach about the area I wanted to work in and he put me in touch with an organisation that trains psychologists. I thought that I would be able to undertake some training straight away and then start my own small practice, but it wasn't that simple. Even though I now know it makes perfect sense, I hadn't realised that the vast majority of trained, professional psychologists complete a full course of counselling themselves before the start the training, to ensure there are no underlying issues that may impact on their future clients."
Counselling Before Training
Nigel was required to start this process before he was able to start his training and this proved to be an interesting time.
"My psychologist was interested in the fact that I was drawn to help people with phobias because of the experiences I'd had with my mother in childhood. He needed to make sure that I had not displaced or transferred my feelings of not being able to help my mother with her phobia by helping others. Of course, there is bound to be some element of that, but he needed to make sure it was a healthy interest. I actually found this process very interesting and helpful in dealing with issues from my childhood and now that I have finished my own counselling I know that I am ready to undertake my full psychologist training. Eventually, I hope to work in a small practice with other psychologists in my local city."
You might also like...