Difficult Divorce Led Me to Retrain as a Psychologist: Case Study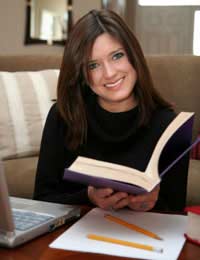 For Marlene Parker, 46, from North London, her experience of a painful divorce did actually have a silver lining.
Although it took some time for Marlene to appreciate the positive turn her life took after her divorce from her husband of 20 years, now that she realises the new lease of life it's given her, she hasn't looked back.
Marlene told us, "Once I married my husband aged 21, I gave up work. I know it sounds terribly old fashioned, but I wasn't really bothered about a career and I only worked as a secretary at a local solicitor's office before anyway, so it wasn't as though I was a successful career girl. My husband Geoff and I knew we wanted children quickly so we were thrilled when our first son came along pretty quickly, then I spent the next eighteen years bringing up our three children. Luckily, Geoff's work as a chartered surveyor meant that he could support us all financially, so I got on with running the home and doing some voluntary work for the children's school PTA."
Changing Circumstances
Although this set up seemed to suit the Parker family nicely, Marlene was not aware that Geoff was unhappy.
She continued, "It turned out that Geoff had been having a number of affairs over the years and I simply hadn't realised. A friend of mine happened to see him with some random woman in a country pub miles away from where we live and, when she told me and I confronted him, I knew I couldn't stay married to him. He moved out that week and from then on, it's been a real rollercoaster of emotions."
As the two eldest children were out of full time education, the divorce settlement was relatively low, although it was enough for Marlene to not need to work and to afford the basics. Even though she was not struggling for money, Marlene felt very cheated by the whole process and, after a few months of not feeling any better, made an appointment with her GP.
Marlene explained, "My GP suggested I speak to a psychologist to talk through my feelings about the divorce. In hindsight, I'm very pleased she did instead of giving me pills to take. I had my first session with the psychologist a few weeks later and I cannot explain how wonderful it felt to be able to talk to someone with no agenda. Although I'm lucky enough to have good friends and family that have supported me and given me a shoulder to cry on, I always felt as though I was asking too much, or that they had their own issues to deal with or even a little embarrassed that I hadn't 'pulled myself together'. The understanding that the psychologist was there to listen to me, they were paid to do it, they were a trained professional and this hour was all mine, gave me a real sense of control. After the second session, I felt like I could talk freely and really explore my emotions."
A Real Boost
She continued, "After just half a dozen sessions, I felt like I was ready to deal with the new chapter in my life. I no longer felt 'damaged' or embarrassed by the divorce and the affairs and I was stronger than ever. This realisation prompted me to look into training to become a psychologist and I recently completed an access course as I didn't have any qualifications past O Levels! I am starting a part time degree course and have a placement at the CAB (Citizen's Advice Bureau) so I hope to help others as much as I was helped through a very difficult time."
You might also like...
My husband (second) and I have been married for 18 years and it has been a roller coaster of happiness interrupted with very dark times.He has just been diagnosed with R A D (Reactive Attachment Disorder) after I was on the edge. It took our GP nearly two years for a referral (initially for Aspergers Syndrome) but at least now some 'explanation' has come out of his behaviour and my frustration. My interest in psychology has been around since my teens but now in my 50's I want to take a course to help others, especially women and menwho have been affected by someone with thiscondition.
Evie
- 23-Feb-15 @ 4:18 PM