Psychology and Counselling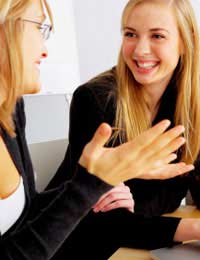 Particularly within the NHS, it is common for psychologists (of all types) to work with other mental health professionals including nurses, psychiatrists and psychotherapists.
This set of articles explores the differences between those disciplines and psychologists.
Counselling And Psychology
These two roles are also often confused – a confusion not helped by the existence of Counselling Psychologists.
In part the difference is one of training. As such there is no formal or agreed minimum training to work as a counsellor. Equally the various approaches can draw concepts from psychology (especially if the counsellor adopts a cognitive or behavioural approach) but this is not necessarily the case.
On the other hand both counsellors and psychologists may see patients with essentially similar concerns.
When To See A Counsellor?
There is no simple clear answer to this. For example if you are coping with a recent bereavement you may end up seeing a counsellor, a Counselling Psychologist or a Clinical Psychologist.
To some extent, the severity of the problem plays a role. So if it is a case of understanding your grief and coming to terms with the loss then a counsellor may well be appropriate. On the other hand if the loss was especially traumatic, then you probably should see a psychologist – especially if there is any likelihood that your grief could also include Post-Traumatic Stress Disorder (PTSD).
Perhaps some useful advice is that you may wish to see a counsellor to help you deal with an immediate problem (such as loss of your job) and the process will assist you in talking through the situation. The goal of a counsellor is to be non-judgemental and to avoid imposing a particular opinion on you.
When To See A Psychologist?
In a way, the answer is if your situation does not fit the last paragraph. So for example, many people with eating disorders find these can be traced back to childhood events. Equally, and perhaps uncomfortably, instances of childhood sexual abuse can be the underlying cause in adults who have relationship problems.
The other critical issue is if the individual is suffering from anything that a psychologist would describe, technically, as a "borderline personality disorder". In this case, whilst a counsellor might be able to work with particular aspects of the problem, they would lack the training and expertise to deal properly with the situation. This is quite important, as despite the relative severity of the symptoms in truth many sufferers can recover, especially when able to deal with the underlying issues and possible causes.
Making A Choice
As is quite common, the issue of what type of mental health professional to see is not straightforward. This is not made any easier by the range of both counsellors and the different types of psychologists.
In so far as it is possible to set out clear advice then essentially if your problem is a product of a recent event (bereavement, divorce, job loss etc) then you may find it useful and helpful to speak to a counsellor. If the problem is more deep seated or more serious then you should see a psychologist.
One helpful feature, at least within the NHS, is that the normal referral route is via your GP who should have a clear idea as to what types of issues are best dealt with by one or the other professions.
You might also like...
Good evening, I'm writing because I have many doubts about how to work as a psychologist or counsellor in the UK. I've got a BA in psychology from Spain and a Professional therapeutic counselling diploma from Stonebridge College, in the UK. I would like to know what are the following steps to follow to be able to work as a counsellor or study a course that allows me to work as a psychotherapist or counsellor with my background. I hope you can help me, looking forward to hearing from you, Sara
Sara
- 28-Oct-20 @ 8:09 PM