Psychology in the City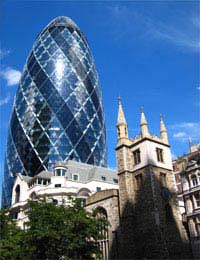 There are a number of ways in which psychology is present in the City, which is no surprise given that it generates such a huge amount of money through clever dealing. As more and more employers in the City, such as investment banks, trading floors and financial headhunters, appreciate that, in these just-post-recession times, only the fittest survive, anything that gives their employees the edge is a must.
The skills of a trained psychologist can certainly give people that edge, so the value of a psychologist, much like an on-site gym or decent coffee shop, is fast becoming a valued commodity.
What Can Psychologists Offer in the City?
But why? What can psychologists offer to these companies and what types of roles are available? The majority of psychology in the City is performance-based. Even before the recession kicked in the City was a pretty cut-throat place, but now that the behaviour of the banks in particular is in such sharp focus and many wealthy clients are being a little more careful with their funds, City firms are keen to do whatever it takes to make sure it is them getting the commission.
An in-house psychologist can help the performance of City workers in much the same way as a life coach or sports coach can – it's about boosting confidence and making sure that the employees have the self-belief to win the business. Psychologists that work in the City tend to work with small groups and individuals on positive visualisation and Neuro-Linguistic programming exercises that help to ensure that the employee is totally at the top of their game and able to utilise any commercial opportunity that comes their way, and so benefit the company.
Emotional Support
It makes sense that City firms employ psychologists for performance-related assistance, but they also use psychologists for the emotional support of their employees. The in-house or consultancy psychologists available for the employees of City firms are usually available for whatever issues are causing a problem for the employees, for much the same reason as the performance aspect – problems stop people from working effectively. As City employees are often very well paid, anything that stops them being able to provide a 'billable' hour costs the company dearly, so assistance is welcome.
Urban Myth?
There must, however, be a cynical word of warning for City workers that wish to access the counselling services available to them directly through their employers.
Whilst the company might say that they are simply keen to support their employees and that the only want to help them, it may not be an urban myth that, when redundancies are on the horizon, the company looks at who has required counselling as their first port of call. This is said to be because these employees are most likely to be difficult or ineffectual, even if it's through no fault of their own that they require counselling, such as bereavement, but the truth is that nobody gets an easy ride in the City, especially when there's a recession.
You might also like...
I was wondering if you offered any work experience I am interested in being a criminal psychologist.
emily
- 5-Dec-18 @ 9:33 AM