Choosing a Psychology Degree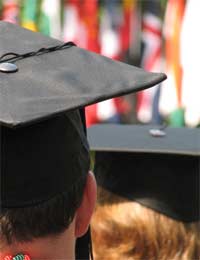 Basics
For most people the usual route to qualifying as a psychologist is to study psychology at a University. Psychology, either as a subject in its own right, or combined with other (usually) social sciences, is offered by the great majority of Universities in the United Kingdom.
However, once you have your first degree you will need to undertake further training before you qualify as a psychologist (technically known as a Chartered Psychologist). The precise requirements vary between the psychology disciplines but, at the least, you will have to study to masters level and undertake relevant training.
Various issues will influence your choice of university (proximity to home, attractiveness on your personal criteria, entry requirements etc) but when looking for psychology degrees there are some critical issues. If you wish to qualify and train as a psychologist it is essential that your degree is validated by the British Psychology Society (BPS) and that successful completion entitles you to what is called the Graduate Basis for Registration (GBR). If your course does not offer this, then after completing your degree, you will find you need to do further exams in order to be able to qualify for postgraduate training.
Choosing A Psychology Degree
One issue in applying for a degree in psychology is the issue of whether an A Level/Higher in Psychology is of value. At the moment, this is not available in many schools so most Universities do not make it an entry condition. Instead they look for a mix of numerate subjects (maths, science etc) and social sciences/humanities. They will usually expect you to have a pass in Mathematics at GCSE or Scottish Standard level. Having said that, studying psychology at school is useful as it shows an interest in the subject as well as allowing you to explore some of the basic concepts.
Selecting a university is obviously about much more than just the content of the particular degree you are interested in. As such your choice may also be influenced by overall reputation, location, availability of residences etc. You will need to apply via the UCAS process (if you are at school you will be assisted in this) and should search for psychology degrees using their website (http://www.ucas.ac.uk/). This will allow you to search for general degrees in psychology or for more specific topics.
Once you have identified a suitable course, you should check that the programme is accredited by the BPS so as to ensure you do qualify for further training as a professional psychologist. This should be obvious from information supplied by the University but you can double check using the BPS' own website. Some new courses will not have accreditation at the start but this will become available once the BPS are satisfied so even if the course is not on this list it is still worth checking.
Of course a Psychology degree lacking BPS accreditation is still of value in gaining a job. It is seen by employers as a good social science degree with a reasonable level of numeracy.
Should I Specialise?
In the main, if you are looking for an undergraduate degree in the subject it is probably as well to study a standard BA/BSc degree. The nature of the professional accreditation encourages what is called "breadth" so you will end up studying a range of topics in any case. However, if you are clear you wish to work as say an Educational Psychologist it might be worth either looking for a relevant specialist degree (use the UCAS website to search) or for a University that would allow you to combine Psychology with say Educational Research. In the main though, there is no need to specialise until you have gained your degree and are looking for further postgraduate and professional training.
Summary
When choosing a psychology degree, the following are the main points to bear in mind::
It is not essential to have studied Psychology at A Level or Scottish Highers (but you will need GCSE or Standard Grade Mathematics);
You need to check if a particular degree is accredited by the BPS. If not it will be a lot harder subsequently to train as a psychologist;
Unless you are very sure as to your preferred professional field there is little gain to studying a specialised psychology degree at the undergraduate level.

You might also like...

I'm in my last year of high school, and have already achieved a B in maths, GCSE level, so will that be all that is required for university? Because I've looked on the websites and it says you don't have to have done psychology at GCSE or A Level? I am going to sixth form after I leave and have picked the following subjects; psychology, sociology, English language & media studies. Are these good subjects?

Chelsea

- 15-Dec-13 @ 9:07 PM

I am doing my EN diploma and want to become nurse but specialized in pyshology who sit and communicate with patients on their emotional and behaviours. please guide what should I do and how is well paid in Australia Melbourne.

Savvy

- 19-Sep-13 @ 1:24 AM

i want to do physocology but im not sure if i can as i have not got good gsce results

leesha

- 22-Jan-13 @ 10:26 AM